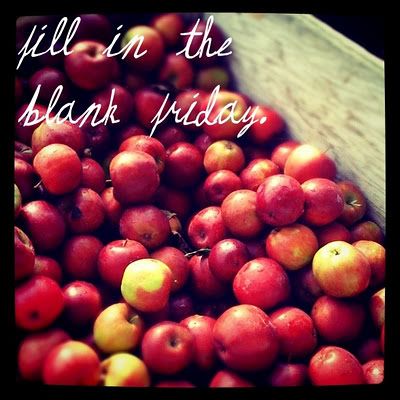 Nothing says fall like... clear blue skies, bright colored leaves, pumpkiny foods, and an extra layer of clothing.


My favorite autumnal tradition is... pumpkin carving, fo sho. Vince and I have carved one together the past two years, and I want to do one EVERY year. Next year I want to make time for a visit to the pumpkin patch, though.
My favorite fall treat is... candy corn + peanuts. I didn't know this until a few days ago, but after consuming about a pound of the stuff at work, I think I'm hooked. I'm also a fan of pumpkiny baked goods.
Fall makes me think of happy, nostalgic times because the holiday season is just around the corner, which is a time that I feel all warm and fuzzy inside 24/7. It also always reminds me of the Fall that Vince and I started dating, and how everything just seemed so brightly colored back then. Well... and it also makes me think of being at my old apartment with my roommate, leaving our back door open while we sat on the deck doing homework while listening to music, then letting the apartment get cold and making hot chocolate.
Autumn free form word association, go! leaves, bright blue, wayyy too dark mornings, pumpkins, hoodies, boots, long sleeves.. etc.

My go-to outfit in the fall is... jeans with boots + something with a scarf, or a skirt + leggings


My favorite fall holiday is (Halloween or Thanksgiving)... Lately, Halloween I suppose. Fall still feels so new and exciting with fun activities involving Fall Festivals, kettle corn, pumpkin carving, costumes, pretty leaves.... all the good stuff. By the end of November it's just too darn cold, the trees are usually bare, and Thanksgiving is more like a dry run of Christmas to me.. it is there to kick off Christmas season.
Happy freakin' Weekend!
Have any good plans?
I will be frantically trying to learn how to do my hair in a decent way to go with my dress, then spending Saturday evening at the Marine Corps Ball, then hopefully seeing Paranormal Activity 3!
I love when boys jump at scary movies. :)