If you dropped the ball on Dear Monday today, raise your hand.
*raises hand*
That would be me.
I was just so tired last night and my new hair took a little longer than expected before work this morning and hey... life happens. Sorry I left ya hangin'! (Ahem,
Sar
!)
If you would like to link up some belated Monday letters, or already wrote some and would like to link up your bloggy, please do at the bottom of this post!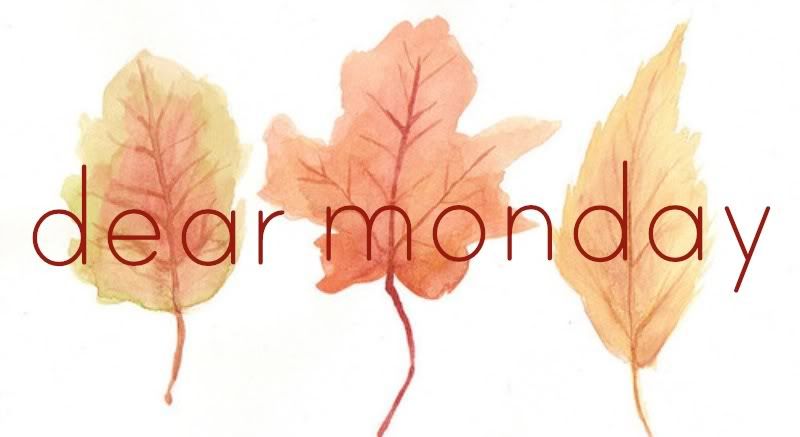 Dear Monday, You weren't the best of Mondays, but you also weren't the worst either. I woke up a little too sleepy, took a little too long on my hair, was a little too unmotivated to do anything productive at work, and a little too unenthused to be at the gym, but you could have definitely been worse!
Dear Hair, Holy softness, batman. I'm so glad I took the plunge and hacked off all the dead frizzy bits and now have a mop of bouncy, moveable, totally alive hairs! And I don't think I've EVER gotten so many compliments. I felt all warm and fuzzy inside reading all the sweet little comments on the hair post, and equally fuzzy at work with all the "oh my gosh"'s. Not too many fuzzy feelings at the 2nd grade girl who frowned and said "Eh. I liked it better long. And blonde." Ya can't win em' all!
Dear Girl-date Weekend Trip of FUN in Pigeon Forge/Gatlinburg, You were amazing. I loved giggling late at night, marveling at the wonders of the pant ninja, finding mommy clothes for a sweet friend who is expecting a peanut who will be even cuter the baby peanut ornament we found, trying on a baby bump while in said mommy store and mom's response when I sent her a picture, stuffing ourselves with pancakes, visiting my first winery and trying the entire wine list, performing a covert operation by sneaking into the business wholesale market at the convention center under the aliases Gail, Rhonda, and Sarah, eating WAY too much good food, and just generally having an awesome time. You were perfect, except that you ended too quickly!
Dear Feelings That Happened After Consuming 10 Wines With Only Pancakes and Salad in My Stomach *and* Hotel Man That Mmmm Mmmm MMMMMMM-ed At Me, I could have done without one of you, and one was a creepy little ego boost. 'Nuff said.
Dear Boyfriend, I miss your face and everything attached to it. Next weekend. Me. You. Us. BEAR HUG. You hear??