I have very high hopes for 2012. While I feel like this year will be a transition year of sorts with tons of changes, rather than putting the brakes on to keep a sense of sameness, I'm using this feeling as a spring board into a brand new, more motivated lifestyle.
I was so motivated by keeping my goal list posted where I would see it every day in 2011, and plan to do the same this year.
I may not have completed a photo Project 365 or a Wreck This Journal, but I still nurtured my creativity by sewing a few items that I am truly proud of. I may not have started the year with a saved up over $3,000 as I had planned, but I did open a savings account, save more than my goal, but then life happened sometimes and I had a back-up fund to pull from- which felt so independent and secure. I'm pretty sure I didn't read 10 new books, but I had so much fun reading the few that I did really slowly over time to Vince when we got to see each other. I didn't take a day to plan a date with myself, but I got to plan a hiking/movie date for Vince, and that was kind of better. I didn't make noticeable body changes in 2011, but making healthier choices more often is becoming much more routine. And while I didn't fill up my chart for walking 200 miles in 2011, I did mark off 65 miles of intentional outdoor activity, and just kinda stopped keeping track of it... so I'm sure I at least got close! And I am a-okay with that.
Which leads me to this...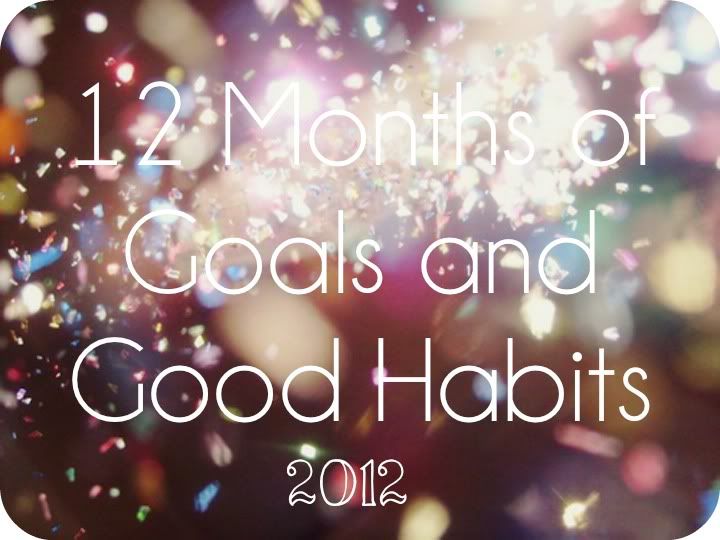 I have compiled a list of mostly measurable goals, small (but important) lifestyle changes, and good habits that I will try each month of 2012. I've focused each month with a individual thematic words and arranged my months by which ones I know will be busy for me- more change in the months I believe I can handle it, and a focus on health, rest, and stress relief during the months that I predict that I will need it.
Long Term Goals
+ Read 6 books
+ Complete year 2 in my 5 year journal
+ Lose 30 pounds
+ Take a photo a day
+ Try one new thing each month
+ Re-open my handmade shop
12 Creative Goals
+ Sew something I can wear
+ Learn needle felting
+ Construct and sew a flannel camp quilt
+ Make an iMovie
+ Restock and reopen handmade shop
+ Learn to crochet a flower
+ Paint something (canvas, something wooden, whatever)
+ Make something I find on Pinterest
+ Complete a 30 Day Photo Challenge
+ Experiment with making necklaces
+ Find one new-to-me music album that speaks to me
+ Make a small photo journal
12 Months of Goals and Good Habits
January:
"Adapt"- Get out of bed at 5am and stretch // One week fruit detox // Pack a healthy breakfast, snack, and lunch every day
February:
"Get Moving"- Exercise before work // Get religious about moisturizing after every shower // Floss nightly
March:
"Simplify"- Take time to read for 30 minutes a day // One phone & computer free day a week // De-clutter bedroom and bathroom // Begin Laundry Thursday & Straighten-up Sunday
April:
(My 25th Birthday Month) "Me"- Make overdue doctors appointments for check-ups // Plan a date for myself // Write a letter to my future self // Get my passport
May:
"Connect"- Take daily walks // Make a daily habit of at least skimming the news headlines to be more informed
June:
"Treasure House"- Start scanning old family photos onto external hard drive // One TV free day a week // Purchase and organize a fireproof safe of irreplaceable keepsakes
July: "
Rejuvenate"- Organize the master bedroom closet // Spend at least 30 minutes outside each day // Begin getting well rested by getting 8 hours of sleep each night // Up my water intake
August:
"Prepare"- Take daily vitamins // Use planner to prepare for each week/day // Continue getting enough rest
September:
"Unwind"- Attempt daily yoga // Go on one "just because" adventure
October:
"Affection"- Pursue Vincent in new, creative, thoughtful ways
November:
"Appreciate"- 30 Days of Thankful project // Begin Christmas gift planning
December:
"Magic"- 6 Dates of Christmas with Vince // Mail Christmas Cards // Slow down to appreciate the season!