Dear Monday,
You were kinda great. Sleeping in, lunch date, buying new Smartwools... I wish I looked forward to Mondays this much every week!
Dear Needle Felting,
You are fun and a little bit trickier than I thought you would be, but with the help of
this book
and some YouTube videos, I'm getting the hang of it and making some cuuuuute little friends.
Dear Big Bang Theory,
I'll admit. I didn't understand you at first. When I'd get stuck watching you in between waiting for the next random episode of How I Met Your Mother to come on, I'd even get a little irritated because I didn't find you funny. But since Vincent got the first 4 seasons of you, I decided to watch you from the beginning while waiting on him to come home from work... and I'll say- I get it now.
Dear Mae Pearls Frozen Yogurt,
I have feelings for you. You and your Birthday Cake (...and chocolate...and peanut butter) yogurt with strawberries, blueberries, cherries, and walnuts nestled gingerly atop your mountain of goodness. You and your cool leather couches, neutral color scheme, and alright music selection, and the fact that upon walking in, I am not assaulted by hot pink walls, weird space age plastic furniture, glitter centerpieces, or flowers and teddy bears on every surface as with other frozen yogurt establishments. You and the fact that you are a perfectly acceptable meal substitute. Or the perfect finish to a day of hiking and wine tasting. Or a coincidental combination of both. I love you, for reals. Let's just leave it at that.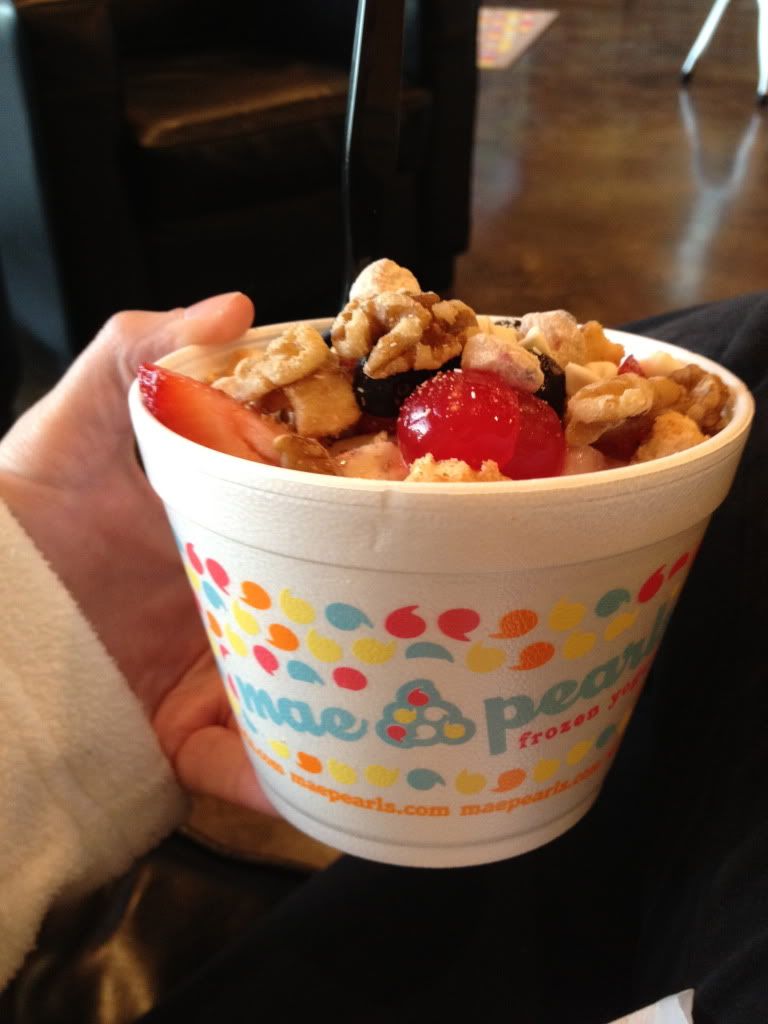 Dear Winery(ies),
Any place that I can walk into, march up to the counter, and pick a place on a long list of where I wish to let the free sampling begin is my. kind. of place.
Dear Boyfriend and The Perfect Sunday,
This weekend we enjoyed a few of the finer things in life. We slept in, consumed IHOP omelets chock full of spinach, went on a beautiful 3 mile hike in the wilderness, made a pit stop at a winery, and built a movie fort half the size of your living room to hang out in our pj's eating Reese's Pieces and Sour Patch watermelons watching movies that we actually went to a store, picked out, and rented together in. I loved everything about this weekend, except that it flew by so quickly.