Engaged!
from
Megan H
on
Vimeo
.
Ever since we didn't get to go camping on my fall break, which I made a biiig fuss about, Vince and I had been planning to go as soon as we could over spring break. A few weeks ago, he put in to take off work the first weekend of my break, hoping the weather would hold out so we could go. At first we really tried to plan a bigger trip to a new park we hadn't been to, but last minute we decided just to go to one really close to my house that we'd already been to and hiked before since we couldn't leave until I got off work anyway.
When I got home on Friday, usually Vince hears my garage door and comes to greet me as I walk in, but he was nowhere to be found. I went upstairs to start packing my camping stuff, and eventually came downstairs and found him in the back room, Dad's office, talking. This is not at all unusual, but the way they got quiet when I appeared in the doorway made me a little suspicious.
We finished packing, stopped at the store, and then were on our way. We didn't have much daylight left, so we quickly put up our little blue tent, reserved our campsite, and Vince busied himself being manly and perfecting our fire. After dinner, we got in the tent to keep warm and read a couple chapters of our book before falling asleep early to get rested for the next day's hike.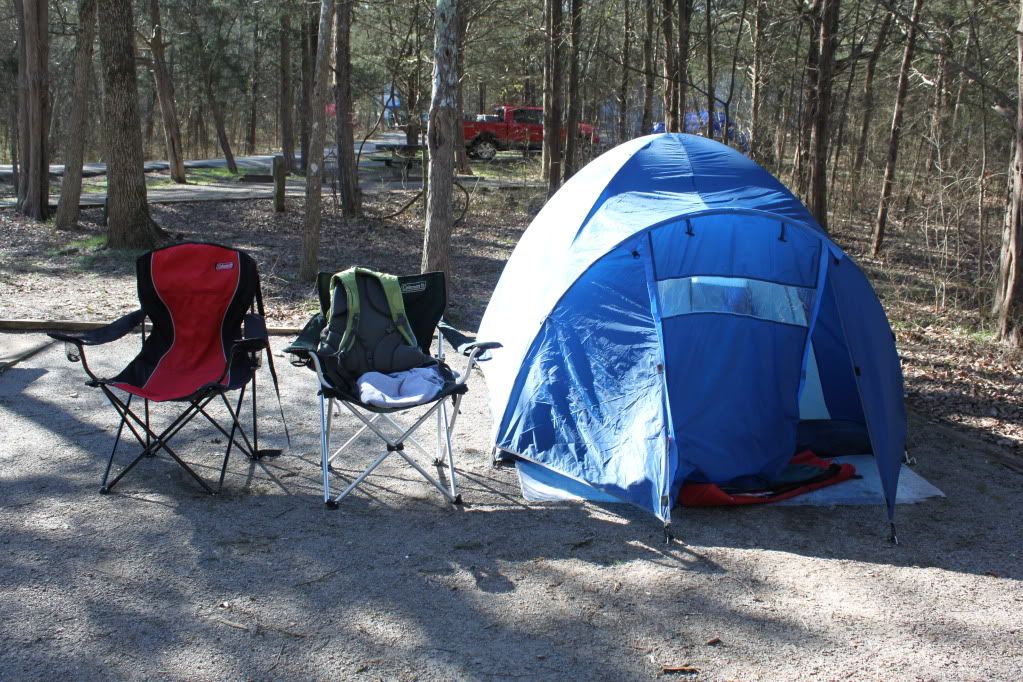 Saturday morning, we showered and got our little backpacks packed for the hike and sat in the car to eat our Apple Jacks and warm up. We drove on over to the spot we had parked the last time we hiked the Hidden Springs trail, and were on our way.
When I was packing my things the day before, I had asked, "do I need my camera?"and Vince had said "Yeah.. I have an idea of some pictures we could take." Paired with finding Vince in Dad's office, this made me even more suspicious, but then I remembered that all the cute pictures we took on our anniversary in October had been Vince's idea and then he had said, "Yeah, bring your camera and tripod, I have some ideas for pictures we could take." So I tried to brush that little feeling off.
A little ways into our hike, the path narrowed and turned down into a pretty area of little valleys and Vince stopped and said, "Lets set up the camera and get some shots of us hiking....." In my head I thought "MAN. This is obvious. I bet this will be it!" But we set up the camera, took a couple pictures of us walking, and then he started packing everything back up. I stood there watching him like, ".....uh? oh. okay?" feeling a little silly for having thought anything was up.... but in hindsight, watching the above video I think those sneaky smiles in the last walking shots are a dead giveaway something might be up ;)
We continued our walk and eventually the trees thinned out and we got to a little clearing that we remembered liking when we'd hiked this trail before. Last time we went was the middle of summer and the grass was tall and we had said it would be a good place for a picnic if we ever came back. This time though, the clearing was dotted with tiny little wildflowers and I stopped to look at them. Vince took out the tripod and said, "This spot is better for an action shot of us hiking- it's sunnier." and instructed me to go stand in the clearing so he could "focus the camera" on me, which I've made him do at least a thousand times. I just figured it was my turn to be the focal point and walked out in the clearing. I stood around and smiled, pretended I was a deer, looked around, fixed my hair, asked if I should have sunglasses on or off for our photo ("um... you don't need them."), and had no idea that it was taking so long because he was trying to be sneaky and figure out how in the heck to turn the video camera option on and make it record.
He finally walked toward me to get in the shot and when I was about to ask what he wanted us to do in the picture, he handed me his phone. A slideshow of "why he loves me" was playing, which he had sent to me for Valentine's Day, but some of the words were changed. (I'll skip the part here where the camera randomly shut off and ran out of memory and that was an awkward pause of needing to be fixed). The last slide of the slideshow used to just say "Happy Valentine's Day", but now says "I want to spend the rest of my life with you", and suddenly he takes the phone out of my hand and drops to one knee.
I always wondered how he'd propose, what he'd say, and how it would feel when he REALLY asked me to marry him, and I always imagined myself saying something more profound than an already teary "Yeah?!!" But it was PERFECT all the same. I'm SO GLAD that I have a video of that moment that I can keep FOREVER- he knew it was something I wanted, and what better place than in a sunny spot with little wildflowers around?!
We sat in the shade for a while so I could ask a billion questions:
How long have you been planning this? Been planning on proposing on this trip for a couple weeks,
When did you get the ring? IN DECEMBER (!?!?!?!?)
You've had it THAT LONG?? Well, I didn't get to pick it up until Friday.. I was gone ALL day.
And you let me get mad at you for not packing our camping stuff while I was at work??? Yes. That part was fun.
Was that why you and dad were weird on Friday? Yes- I had just asked him for his permission to ask you to marry me a while before that.
Was that why you were so quiet this morning and I was fishing to see what you'd say (and even trying to remember which way eyes go when people are lying)? Yes. I was just nervous and really excited.
We finished our hike (after stopping a couple times to ponder how weird the F word sounds... fiance, and how loooong of a walk it would have been had I said NO. haha!) and dragged ourselves (okay, it was just me dragging) back to the car. I called mom with the news because I knew for sure dad told her what Vince had talked to him about, and we asked my brother if he would like to have a brother, but that was all- we kept the news the rest of the afternoon and evening to ourselves so we could be just us and bask in the glow of it for a while. (That's a lie. When a couple people passed us on the trail and said "How are ya'll?" I calmly replied GREAT! THISISTHEBESTDAYEVER! HEPROPOSED! ANDWE'REENGAGED! But that doesn't count.)
When we came home Sunday morning, mom brought out the champagne at 10am, we toasted, mom and I cried (rinse. repeat. and the cried again. and again.) and later we went to lunch and then cleared out all that Walgreens had to offer in their wedding magazine department, then curled up on the couch to watch TV, nap a bit, and browse through pretty wedding pictures.
Basically, this was the very best weekend and camping trip EVER.