Link up some Dear Monday letters of your own below!
Dear Monday, HOLY tomorrow is MAY. Its a bit gross going back to work today knowing that TCAPs aren't over... I will still be reading to a group of 8 third graders today and tomorrow. That is yuck. BUT I'm excited about a few fun things this week! Namely, Vince being DONE with another semester of school, and a mexican restaurant baby shower... I will definitely be toasting to that little almost-born nugget with a Dos Equis with lots of lime.
Dear Hospital, You are awkward? Aside from making me generally uncomfortable walking around in anyway, you double teamed me with your weirdness when my friend, her husband, and I wandered the halls for 20 minutes, marveling the fact that not a single SOUL works any reception desk on Saturdays, so we had a hard time finding our friend who we THOUGHT would have birthed her child by then....but were very wrong. Why, nurse, were you going to just let us burst into her room with balloons while she was IN LABOR? Tsk tsk.
Dear Fifty Shades of Grey, I have not been able to put you down for the past week. For the first half of the first book, I was just mad all the time because the writing was sooo bad, but I kept hearing everyone at work say how great it was, so I stuck with it. Now I see that I'm not noticing the reallly VULGAR parts as much, and just love the story between Ana and Christian. I'm halfway through book 2 when I swore I'd hate the book and not go past the first sample on my Kindle. Never say never.
Dear Breakfast Picnic at the Park, I will always love mornings like you with Vince. So quiet and pretty.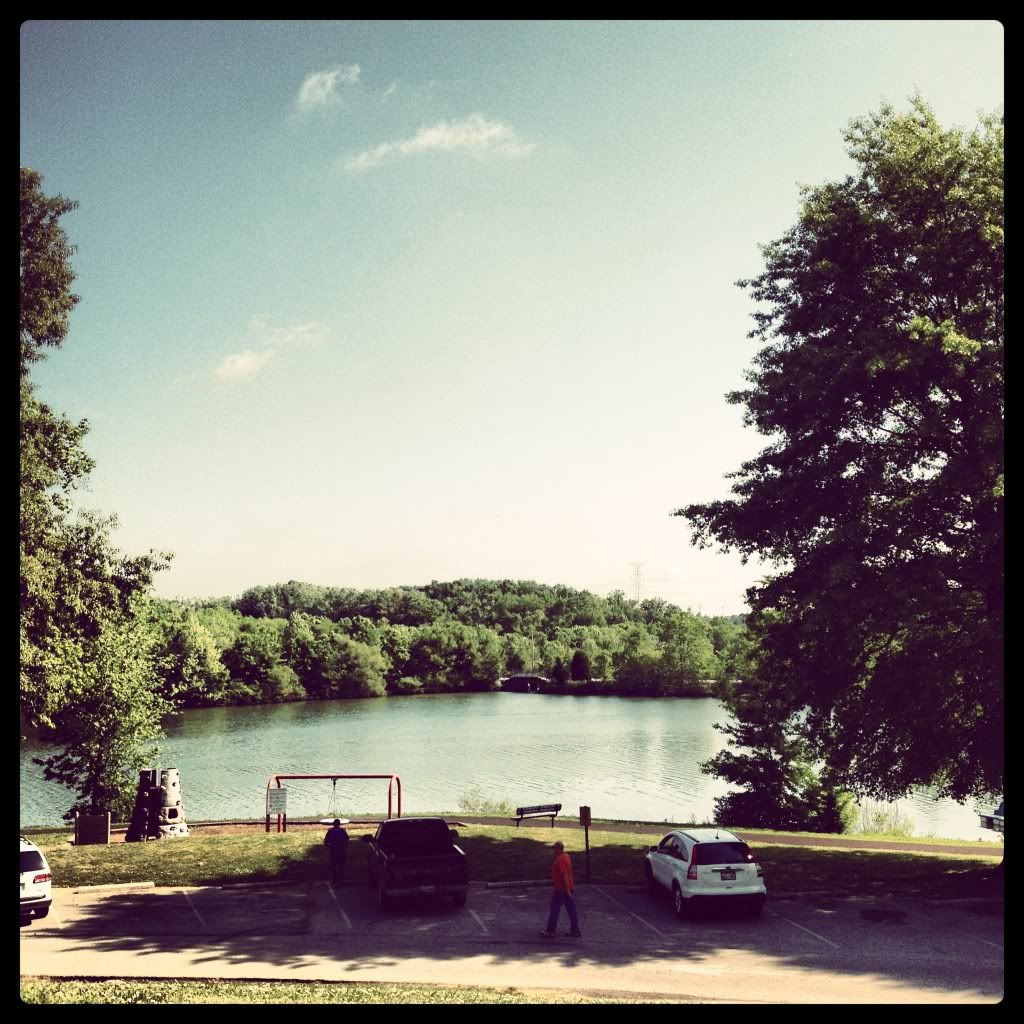 Dear Final Rocking Fiance, You have TODAY and TOMORROW with finals and that is IT. You can blow those things out of the water. So proud of you for all your hard work this semester, and how well you have done. Finish out strong! AND THEN COME SEE ME! We need to celebrate with a fishbowl of adult beverage. Luck Luck Luck.
What do YOU have going on this week?