Go write some little Dear Monday letters on your blog, and link them up below!
Dear Monday, Helloooo new week. I love waking up whenever the sun wants me to on a Monday morning. This week will be full of LOTS more work on my classroom, two common core inservices, and one night of drinks to say goodbye to a wonderful teacher, to say yay for me, and to say happy birthday to a couple friends who's birthdays fall in the summer.
Dear Classroom, You are coming along, sloooowly but surely. Today I'm going to start painting bookshelves and start hanging my math word wall. A little bit of happy fabric and bulletin board border goes a longggg way.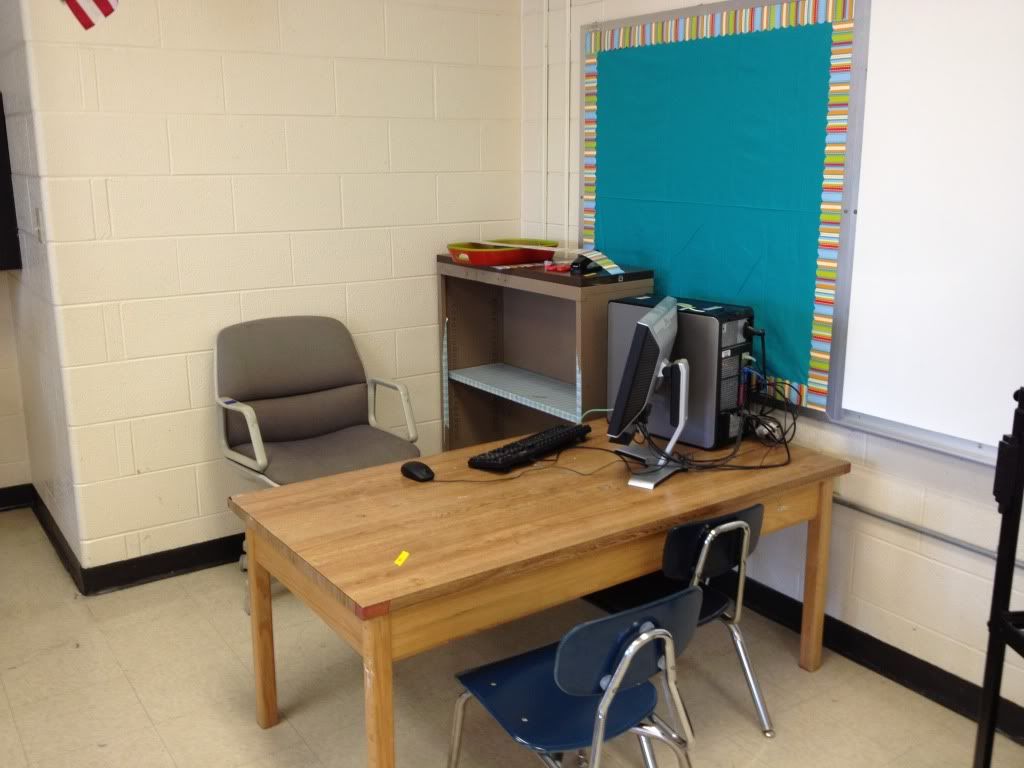 Not my real desk, and an unpainted bookshelf.
Dear Classroom Library, You just showed up on a table one day. It took me all the way through 2012 and most of the way through Baby Mama to look at you and sort you into book baskets, but I feel accomplished now and I actually know what books I have. I love books and will always feel like I need MORE! ...except I don't need more copies of The Whipping Boy. I have 47 of those that I don't know what to do with..?
Dear Classroom Mascot, I'm excited to let the kids name you, and mayyyybe let them take you home and write about what you did in your take-home journal.
Dear Readers,
Have you ever noticed one of my faithful Dear Monday participants and followers, Ashley from
Celebrating Life as an Army Wife
? Yes? Well, did you know that she has started a puzzle piece adoption fund to help her little family adopt? For $5 you can buy a puzzle piece that will have your name on it, and they plan to write your name on the piece, put the puzzle together, and hang it in the baby's nursery. Neat right?! If you feel like helping out, you can read up on their
adoption blog [Here]
and buy your piece on the
fundraiser site [Here]
.
Dear Vincent, Thanks for coming to my classroom to push things around with your man strength. And speaking of man strength, thanks for helping Danny carry my washer and dryer out of your apartment. That was helpful. Two more weekends till we can go see that wedding venue we reallllllly hope is perfect!
Happy MONDAY, friends!
Link up some little letters below!